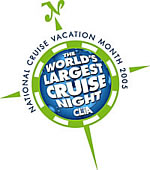 Arizona ASTA in conjunction with CLIA present The World's Largest Cruise Night.
We'd be honored to have you join us October 19th, 2005, as we introduce cruising to the people of the Greater Phoenix area. We would like to share our plans with you in hopes you will add your presence to our wonderful show.
Location
Windemere Hotel & Conference Center
5750 E. Main Street
Mesa, Arizona 85205
Click for a map and directions.
Facility
Chairs will be set up for approximately 50 people for each presentation
Refreshments to coincide with your destination feature
Separate rooms for a Cruise Wear Fashion Show, Packing Demonstration, and a Booking Room
Time
The show will be from 3:00pm through 8:00pm on Wednesday, October 19th, 2005. Why these hours? In order to reach the maximum number of people by interest and daily life styles…
Tentative List of Seminars
3:00pm – 4:00pm — Seniors and night workers
4:00pm – 5:00pm — Families
5:00pm – 6:00pm — First time cruisers
6:00pm – 7:00pm — Weddings on Board; Honeymoons
7:00pm – 8:00pm — Open House for Everyone
We are registered with CLIA as a participant in this nationwide promotion and both suppliers and agencies will be combining skills and resources to make this a memorable event.
Here are some possible topics for presentations:
First Time Cruisers
Cruising with the Kid
Singles
Wheelchair Cruisers
Onboard Weddings
Reunion Cruises
Grandparents / Grandchildren
Golf Cruises
Upscale (Luxury) Cruising
Honeymoon Cruises
Adventure Cruises
Theme Cruises
Statement we want to make: "There is a cruise for you!"
The image we want to show: Formal or casual, adventure or relaxing… "The choice is yours!"
Area we are targeting: All communities, both large and small, located within the Greater Phoenix population area.
Advertising: Direct mailing to client lists, newspaper, news releases, posters, street sign at convention center
Experienced cruise sales agents will be set up to make reservations, take deposits, and make sales appointments during the show. There will also be cruise agents familiar with your product to stand in so you may take a break.
Please contact one of the committee members below for rates and details.
Please respond to one of our committee members who would be very happy to answer any questions you may have and to accept your registration. Thank you.
Pat Fulton, CTC, MCC
Helen Wirschem

Sisters Three Travel
480-451-3870

Lana Vermilya
Terri Maldonado, CTC, MCC